WOOLF BROADSIDE
Text and decorated paste paper by Carol J.Blinn. 2003.
In June 2003, Smith College in Northampton, Massachusetts, hosted the Thirteenth Annual Conference on Virginia Woolf, entitled ³Woolf in the Real World. This grand gathering celebrated Woolf's life and work with scholarlypapers, film screenings and an extraordinary show displaying the richholdings in the Mortimer Rare Book Room of all its Woolf material.
Warwick Press was invited along with seven other book artists to show itswares. I was hard-pressed to create a piece that not only had some relevance to Virginia Woolf yet was also reflective of my own work as well. This broadside¹s text has been letterpress printed on to decorated paste paper sheets. The patterns and colors of the papers vary greatly, but the making of each one follows a great tradition of wanting to present colorful and eye-catching papers that spark a response in those who hold it in theirhands; the same response Leonard and Virginia Woolf hoped for when people
saw their work.
9 by 12 inches; letterpress printed onto decorated paste paper; the
typeface is Joannna and the paper is Mohawk Vellum. Made in a wide variety of colors and patterns.

39 copies; signed by Carol.
$45.00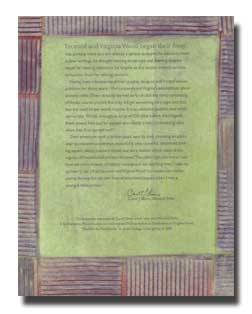 Sample