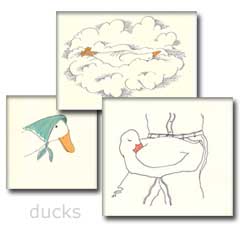 Viewers will notice that there seems to be a ducky theme to my art work. But

the work of Warwick Press did not begin with ducks except for the use of a duck logo on my letterhead. There were thousands of serious, elegantly designed and printed letterheads, business cards, bookplates, envelopes, booklets, wedding invitations, and all sorts of other printed material produced for use by commercial clients.


My first Warwick Press letterhead duck motif came into being at 104 Cottage Street in Easthampton, Massachusetts, Warwick's first home. My nine-foot wide by forty-foot long shop was piled with paper, boxes of wooden furniture for locking up formes, an old Kluge press badly in need of cleaning, and a foot stapler. I sat there oblivious to the mess and made my first life-like drawing of a Pekin duck(her name was Webby) from my childhood.

Webby, in various reincarnations, found her way onto my business card, then a mailing label, and finally she jumped onto my envelopes. Wherever I wanted to portray a serious and professional 'look,' Webby kept appearing and reminding me of the pure fun she and her sister, Debby, gave me as a child. Finally, I had to put those memories into book form, with the publication of a country memoir, "A Poultry Piece," in 1978.

As one can see, the rest is history. Not only did I give in to ducks parading through some of my work, I decided to flaunt their silliness and use them as subject matter. I take great care in drawing the ducks and in hand coloring their bills and other body parts(when necessary). One should also note that on duck drawings used on my posters, the portraits have an uncanny likeness to this printer. As for my alter ego, Frieda Fitzenmeyer, no subject is too serious for her not to include ducks. (Please note, however, that I am able to draw more than just ducks.)

The following pages display drawings made for birthdays, Valentine's Day, birth announcements, my Standing Order form, for prospectuses and for title pages. Several of the illustrations are from Warwick Press books, especially my ABC edition, "A Fowl Letter Book." See if you can pick out "B is for BABY," "P is for PAL," and "W is for WATERLILY." There are three stenciled designs for greeting cards and two linoleum cuts, one of which(seedlings with hills) appeared in a 1975 edition from the Press, "A German Requiem."

PLEASE NOTE: All of these illustrations are copyrighted and can not be used or reproduced in any form whatsoever. Thank you for respecting my work.