Two by Two:

Poems by Donald Hall & Richard Wilbur. 2000.
Jack Kelleher(compiler and editor of Donald Hall: A Bibliographical Checklist, published by Warwick Press in 2000) dreamed of bringing togethe his two favorite poets to do a joint reading. On 24 June 2000 inthe
VillageChurch in Cummington, Massachusetts, the reading became a reality with the help of many devoted fans and friends. This booklet celebrates the long friendship of these two stellar men of letters. It also marks the first time a three-block-long line of poetry lovers waited outside the Village Church to fill standing room only spaces to hear the wit and wisdom of two world-class poets.
5 1/4 by 7 inches. Creamy parchment wrapper with title printed on front in two colors; two-color ghost of horses printed underneath front cover; 9 pages. The text paper is Iyo Glazed, a handmade Japanese sheet and the
types are Spectrum and Gill Sans.
First edition; 140 copies, 100 of which are for sale; signed by Hall,Wilbur, Kelleher and Blinn.
$ 105.00
Donald Hall has been named our new
poet laureate of the United States
in the fall of 2006!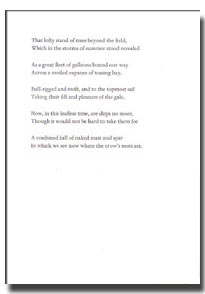 Sample Page