Smitty's Cocks.
Eight Woodengravings by Leonard Baskin. With an Introduction by Carol J. Blinn. Original label by Harold McGrath, tipped-in. 1999.
A collection of eight unique cocks, drawn and cut for the use of Sally and Lou Smith in their glass and framing business in Northampton, Massachusetts (during the years of 1955-1974). The friendship between the Smiths and Baskin was legendary and fruitful. These special images adorned the letterheads, the billheads and most importantly, they were used on framing labels that graced each piece of artwork framed at the shop. These blocks now reside with Perry Smith, owner of Smith Glass, who continues the family tradition of appreciating fine art and printmaking in the course of his business and personal life.
5 by 7 inches high; 27 pages; letterpress printed directly from the blocks; the type is Spectrum and the paper is Hahnemuhle's Biblio; hand bound with red silky cloth over boards with a two-color printed label on front and spine; an original framing label printed by Baskin's printer, Harold McGrath, is also tipped-in.
First edition of 200 copies; signed by Baskin, McGrath, Perry Smith and Blinn.

$ 325.00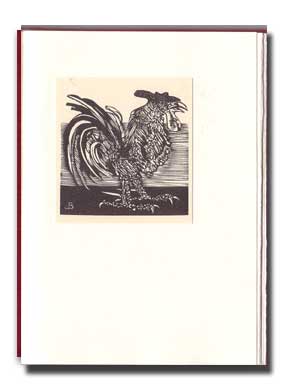 Sample Page