Serious Play:
Decorated Paste Papers
by Carol J. Blinn
This book is the most ambitious to date issued from Warwick Press. The text describes my introduction to paste papers and explores my friend-ship with bookbinder Arno Werner. My affection for Arno shines through the description of his showing me how to decorate with paste. Early photographs of Arno as well as reproductions of some of my papers used on Warwick Press projects are included. For many years I have wanted to document my papers. This book is the result of endless prodding to get the edition done before I become too feeble to life a paint brush. Serious Play is a unique gathering together of my writing and paste papers and it gives me great joy to present it to discerning collectors. I fell in love with the making of this book & I hope you will too.
35 copies; 64 pages; 7 by 9 ½ inches high; designed, typeset in Dante, and letterpress printed by Carol on Zerkall Book; 22 paste paper samples, with descriptions of how to make each one; stenciled title page; a calligraphed title by Sarah Roberts; 12 digitally reproduced illustrations; hand bound by Carol with paste-paper-over-board covers glued onto signatures bound using a four-needle Coptic sewing stitch, the spine of the book being exposed; wrapped in an orange paper wrapper with colored label; signed.
$ 900.00
OUT OF PRINT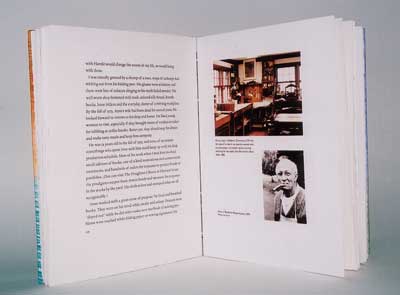 Text with pictures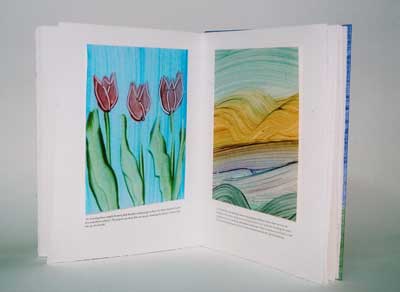 Tipped in samples