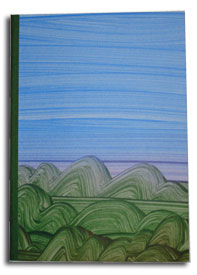 pasted paper cover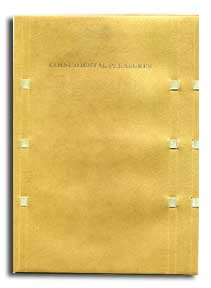 vellum cover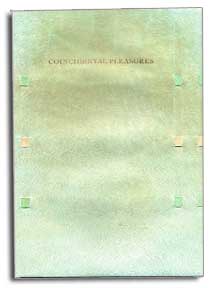 vellum cover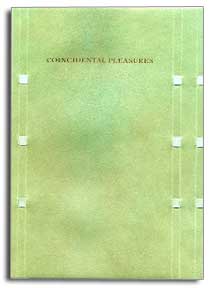 vellum cover
Coincidental Pleasures:
Printing & Farming
An Essay by Bob Baris
Illustrated by Carol J. Blinn
This essay first appeared in Matrix, number 24, winter 2004. Upon reading Bob's opening sentence I felt that little clutch in my chest, that holding of my breath—a clue that I had to publish it in book form. Bob's journal entries give readers a glimpse into the character of a man who changed his career midlife, setting himself on a new path-to print and to farm-with the full support of his librarian wife and helpmate, Freddy Scott.
Whether describing farming chores or thinking about his printing projects, Bob reveals his exacting nature and his profound attention to detail. As a printer he expresses his doubts & worries—is the inking good enough? will the binding be harmonious? will the wood engravings print well on the stock?—all issues we printers grapple with every day. Achieving our daily goals—of fine craftsmanship, of good ink coverage and effortless design—are what makes for a satisfying printer's life.
As a farmer Bob worries as much over the quality of his hay as he does the caring for sick lambs. He applies his same exacting standards to growing heirloom vegetables. We see clearly that it is possible to carefully husband the land, raise livestock, grow healthy vegetables, and produce beautiful, hand printed books all at the same time.
Seventy-five copies of Bob Baris's book were designed, illustrated, letterpress printed and hand bound by Carol J. Blinn. The text paper is Zerkall Book and the typefaces are Adobe Jenson Pro with Zapfino for display. Fifty copies are bound using Carol's decorative paste papers; twenty-five copies are bound using dyed limp sheep vellum in a variety of beautiful, earth colored tones.
75 copies; 6 by 8 ½ inches high; 32 pages;
8 hand colored line drawings; signed by Bob and Carol

$ 375.00 paste paper binding
$ 575.00 sheep vellum binding in a variety of earth-toned colors
Massachusetts residents please add five per cent sales tax.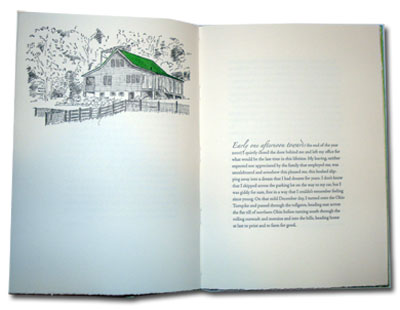 two page spread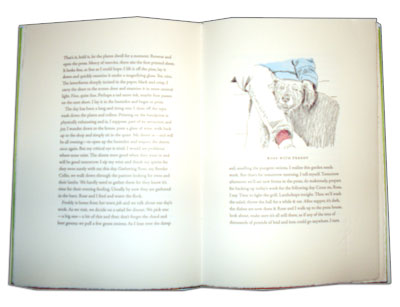 two page spread