The Writer, the Madman & the Printer. Notes on a Writer's Artistic License/Or, Setting the Record Straight.
Simon Winchester & Carol J. Blinn. 2002.
Simon Winchester, author of the best-selling title, The Professor and the Madman, reveals all! His fascinating book about the creation of the Oxford English Dictionary left the reader with one last mystery. Who was that famous talented designer-printer lady from western Massachusetts? You guessed it! This sweetly decorated piece puts Simon to shame and tells the real story of their meeting and how they came to be fast friends. Simon has amended his Author's Notes from the book and I have added my own two cents.
6 1/2 by 9 inches high; 12 pages; letterpress printed; the type is Spectrum, the paper is Mohawk Superfine; handsewn booklet glued into luminous cloth-covered boards; illustrated with a sprinkling of stars and hearts with a silly, typographically created portrait of the printer.
First edition of 120 copies; signed by Simon and Carol.

$ 165.00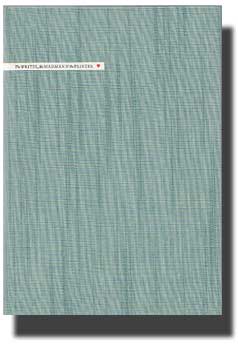 Cover