Lovely Lessons
Poems by James L. Weil. 1991.
In these six poems, James Weil addresses his own teachers with affection and remembrance. Clearly, our best teachers sharpen our vision to learn the simple lessons best.
6 by 9 inches high; 12 pages; letterpress printed; the type is Spectrum and the paper is Rives Lightweight; handsewn into Ishidatami Havanna Rose wrappers with title printed in color on the front; title page device drawn and colored by Carol.
First edition of 125 copies; signed by Weil and Carol.
$ 45.00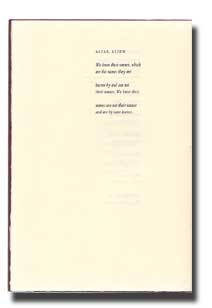 sample