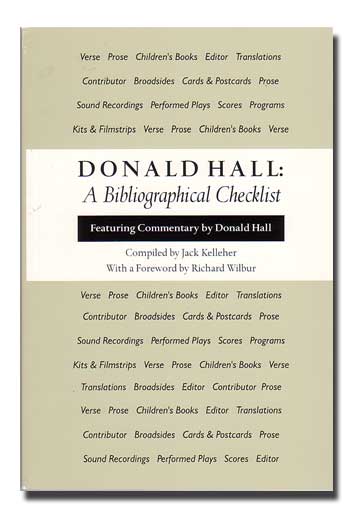 Donald Hall: A Bibliographical Checklist
Compiled and edited by Jack Kelleher.
Featuring Commentary by Donald Hall. Foreword by Richard Wilbur. 2000.
Donald Hall's comments about his early academic and literary pursuits will be of interest to all readers. He talks about his best-selling books - who turned them down and why - and he lets readers into the secret world of a writer's doubts and accomplishments seen nowhere else in print.
Fourteen categories of work with over 400 listings: verse, prose, children's books, editor, translations, contributor, broadsides, cards & postcards, sound recordings, performed plays, scores, programs, kits & filmstrips and videorecordiings.
6 by 9 inches high; 96 pages; printed by offset; the type is Spectrum and the paper is Mohawk Superfine; paperback binding.
First edition of 500 copies.
$ 24.95