A Fowl Letter Book [An ABC Book]
Conceived & Illustrated by Carol J. Blinn. Foreword by Theophile Homard. 1989.
Each letter is represented by a line drawing with a ducky theme. I have put a key to the pictures of the letters in the back of the book.
"The deservedly obscure, but widely disrespected psychologist, Dr. Theophile Homard, has written a probing introduction to the book. In it, he explores the dark myseries behind the images, and dispels any notion that the book is what it seems. Disregarding the aesthetic aspects of the drawings, Homard instead seeks to establish an existential link between the symbolism of the birds and the psyche of their creator. He's probably full of crap, but who knows?"
Timothy Hawley, bookseller
4 by 6 inches; 67 pages; letterpress printed; the type is Spectrum and the paper is Mohawk Vellum; hand bound with decorated paper over boards; 26 full-page line illustrations with illustrated title page, all touched with color by hand.
First edition of 225 copies; signed by Carol.
$ 100.00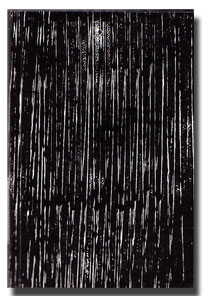 Cover