A Poultry Piece. Being a Discourse on the Joys of Raising Ducks and Geese.
Written and Illustrated by Carol J. Blinn. 1978.
Carol's country memory of raising ducks and geese in Warwick, Massachusetts, the namesake of Warwick Press.
"One herb-filled summer afternoon I sat outside resting idly on the top stone step which led to the duck house. Sitting silently, watching and hoping for the poultry to come near, my excitement rose when Gray, a full-grown goose, padded closer and closer. I sat quite still. She approached cautiously, her large, lumbering, egg-laden body swaying, a ten-pound feathered mass. She put a webbed foot on my thigh and climbed awkwardly into my lap, then settled and primped unkempt feathers into place. Gray let me stroke her, tenderly and fully, while she drifted off for a nap." Excerpt from the book.
6 1/2 by 8 1/2 inches high; 19 pages; letterpress printed; the type is Spectrum and the paper is Mohawk Superfine; Carol made the decorated paste paper for the cover; hand bound over boards with gold-stamping on the spine; four line drawings touched with color by hand.
First edition of 250 copies; signed by Carol.
$ 75.00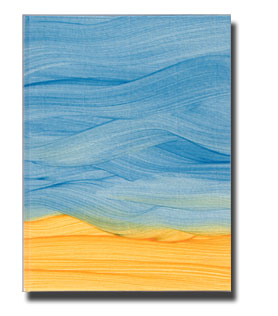 Cover