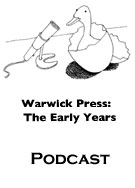 Warwick Press is a multi-faceted fine graphic design and letterpress printing shop and a limited edition publisher.
Since 1973, Carol J. Blinn has provided clients with a broad range of services: from finely-designed stationery to
editions of handbound books; from wedding invitations
and birth announcements to silly greeting cards; from illustrations to custom printing & binding projects.

In viewing this site, one will notice a preponderance of ducks, a particular flighty obsession of the printer. Explore, have fun and be sure to find something you can't live without!